SkyBiz Accounting System
keeping track your accounting using computer
SkyBiz Accounting System
SkyBiz Accounting software is application software that records and processes accounting transactions within functional modules such as accounts payable, accounts receivable, general ledger, payroll, trial balance, income statement, balance sheet.It functions as an accounting information system.
SkyBiz Accounting Modules
SkyBiz Accounting software is typically composed of various modules, different sections dealing with particular areas of accounting. Among the most common are as below: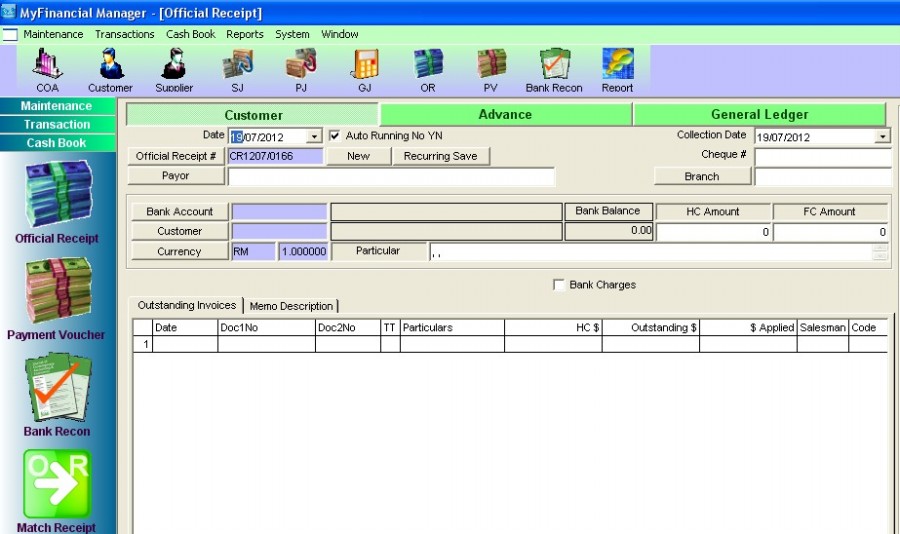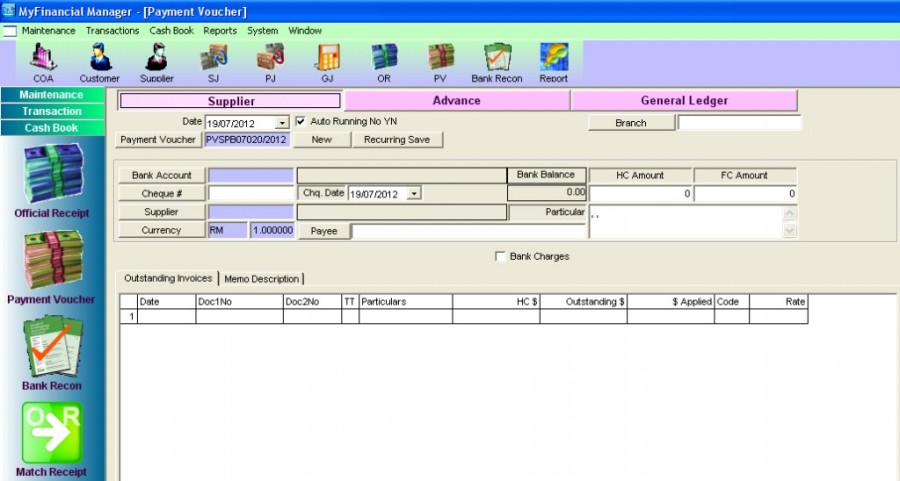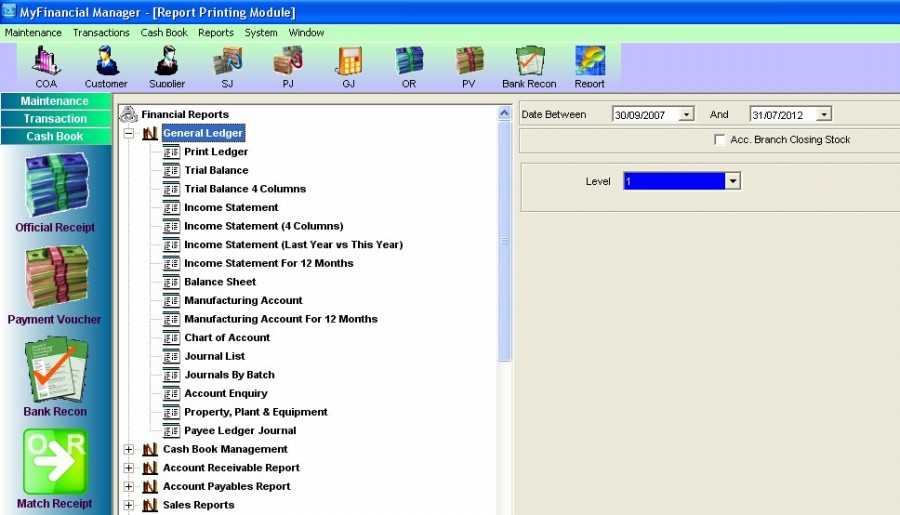 Core Modules
Sales Journal – A sales journal is a specialized accounting journal used in an accounting system to keep track of the sales of items that customers have purchased by changing them to their accounts-receivable account.
Accounts receivable – where the company enters money received. Customer make payment to us knows as an official receipt is a written acknowledgment. It is a specified note that shows money which has been received as an exchange for product or services. The receipt aims to provide an assurance that the party has paid the expanses of the products which it has purchased. Official receipts can be printable or online and their format and pattern can vary depending upon the requirements of the company.
Purchase Journal – The Purchases journal is used for recording credit purchases such as merchandise for resale to customers, business supplies, equipment, and other such purchases.
Accounts payable – where the company enters its bills and pays money it owes.
General ledger – the company's "books", The General Ledger module is the foundation of your accounting system, with flexibility that meets the current and future financial management requirements of organizations of all types and sizes. It provides a robust feature set designed to handle your most demanding budgeting and processing needs. General ledger fully integrates with all modules and is the key to maximizing the efficiency and accuracy of your financial data. The general journal is where double entry bookkeeping entries are recorded by debiting one/ few account(s) and crediting another/ few account(s) with the same amount. The amount debited and the amount credited should always be equal, thereby ensuring the accounting equation is maintained.
Cash Book – where the company records collection and payment
Non Core Modules
Debt Collection – where the company tracks attempts to collect overdue bills (sometimes part of accounts receivable)
Electronic payment processing
Expense – where employee business-related expenses are entered
Inquiries – where the company looks up information on screen without any edits or additions
Reports – where the company prints out data
Reconciliation – compares records from parties at both sides of transactions for consistency. Monthly transaction report will be sent by the bank through a report, which known as Bank Statement. You could make the reconciliation between Bank Statement versus bank ledger by using the software. You could also make the adjustment and print bank reconciliation report if necessary.
Project Accounting
Department Accounting
Branch Accounting
Consolidation Accounting
Multi-currency provides capability for maintaining foreign currency transactions along with the base currency transactions in the financials accounts. Any numbers of currencies are supported even for the same account. Solution also provides support for identifying exchange difference as per accounting standards. Multi-currency module all the financial transactions including journal voucher, financial receipts and financial payments. Multi-currency supports all books like journal, bank book, General Ledger, Customer Ledger and Supplier Ledger.
Multi-currency support extends to online query of general ledger accounts, customer enquiry and supplier enquiry etc. Full support is provided for trial balance, aging analysis in foreign currency and customer outstanding statement.
Supported Businesses:
Some business accounting software is designed for specific business types. It will include features that are specific to that industry.
The choice of whether to purchase an industry-specific application or a general-purpose application is often very difficult. Concerns over a custom-built application or one designed for a specific industry include:
Smaller development team
Increased risk of vendor business failing
Reduced availability of support
This can be weighed up against:
Less requirement for customization
Reduced implementation costs
Reduced end-user training time and costs
Some important types of vertical accounting software are:
Banking
Construction
Medical
Nonprofit
Point of Sale (Retail)
Daycare accounting (or Child care management software)
Accounting Reports
:
General Ledger
Print Ledger
Trial Balance
Trial Balance 4 Columns
Income Statement
Income Statement (4 Columns)
Income Statement (Last Year vs This Year)
Income Statement For 12 Months
Balance Sheet
Manufacturing Account
Manufacturing Account For 12 Months
Chart of Account
Journal List
Journals By Batch
Account Enquiry
Property, Plant & Equipment
Payee Ledger Journal
Cash Book Management
Cash Book
Cash Flow Budget Statement
Outstanding Cash Book / Invoices
Weekly Cash Flow Statement
Payment Listing
Receipt Listing
Account Receivable Report
Customers Statement By Month (Open Item)
Customers Statement By Month (open Item)-Payment vs Invoice
Customers Statement By Month (Balance forward)
Customers Statement By Month (UnMatch only)
Customers Listing
Print Label
Customers Detail Aging Analysis
Customers Summary Aging Analysis
Customers Detail Overdue Aging Analysis
Customers Overdue Aging Analysis
Customers Detail Aging Analysis_PD
Customers Summary Aging Analysis-PD
Customers Ledger
Print Overdue Reminder Letter
Print Overdue 2nd Reminder Letter
Print Overdue Final Reminder Letter
Customer Overdue Invoice Statement
Customer Payment Overdue Days
Customer Outstanding Bills
Gain or Loss Exchange Rate
Post Dated Cheques Received
Customer Matching Listing
Customer Matching Listing [Collection Vs Invoices]
Customers Engury
Customers Details Transactions
Customers Collection Analysis
Account Payables Report
Supplier Remittance Advice-(Brought Forward)
Supplier Remittance Advice-(Open Item)
Suppliers Listing
Print Label
Suppliers Detail Aging Analysis
Suppliers Summary Aging Analysis
Suppliers Detail Overdue Aging Analysis
Suppliers Overdue Aging Analysis
Suppliers Ledger
Suppliers Payment Overdue Days
Supplier Outstanding Bills
Gain Or Loss EXchange Rate
Post Dated Cheques Issued
Suppliers Matching Listing
Suppliers Enquiry
Suppliers Details Transactions
Suppliers Detail Aging Analysis(By TaxDate)
Suppliers Summary Aging Analysis(By TaxDate)
Sales Reports
Sales Analysis By Date
Sales Analysis By Customer
Sales Analysis By Salesman
Top Customer Sales Report by Sort by Yearly Total Amount
Purchases Reports
Purchases Analysis By Date
Purchases Analysis By Supplier
Salesman Reports
Customers Detail Aging Analysis-By Salesman
Customers Aging Analysis-By Salesman
Customers Detail Aging Analysis-PD-By Salesman (Matched)
Customers Aging Analysis-PD-By Salesman
Customers Detail Aging Analysis-PD-By salesman
Salesman Sales And Collection Analysis (By Months)
Salesman Collection Analysis
Salesman Collection Aging Analysis
Salesman Commission Report
Accounting Reports
:
Project Reports
Project Ledger
Project Listing
Project Customer Ledger
Project Supplier Ledger
Project Income Statement
Project Income Statement-Consolidated By All Project
Project Income Statement 12 Months
Summary Of Project Profit/Loss (By Yeart)
Summary Of Project Profit/Loss (By Month)
Project Income Statement-Consolidated By Selected By Selected Project
Branch Income Statement-Consolidated by seleted Project
Project Trial Balance
Project Balance sheet
Project Manufacturing Account
Project Customer Summary Aging
Project Customer Detail Aging
Project Supplier Summary Aging
Project Supplier Detail Aging
Project Supplier Matching Listing
Project Vs Department
Project Yearly Summary By Department
Supplier Yearly Summary By Project
Summary Of Supplier Vs Project
Project Weekly Cash Flow Statement
Project Expenses Report
Project Sales Analysis By Date
Project Cash Book
Project Receipt Listing
Project Payment Listing

Budget Reports

Profit and Loss With Budget
Profit and Loss With Budget (This Year Vs Last Year)
Profit and Loss With Budget (This Year Vs Last Year,This Month Vs Last Month)
Manufacturing Report With Budget (This Year Vs Lass Year)
Project Income Statement With Budget
Project Income Statement With Budget (Format2)
Project Income Statement With Budget(Format3)
Budget Variance
Weekly Budgetetary
Project Budget Variance

Foreign Currency Reports

General Ledger
Print Ledger Listing
Bank Account Realise Gain/(Loss)
Customers
Customers Ledger
Customer Statement(Brought Forward)
Customer Statement(Open Item)
Customer Detail Aging
Customer Summary Aging
Customer Unrealise Gain/(Loss)
Customer Matching Listing
Suppliers
Suppliers Ledget
Suppliers Remittance Advice
Supplier Detail Aging
Supplier Summary Aging
Supplier Unrealise Gain/(Loss)
Supplier Matching Listing

Tax Reports

Tax Transaction Listing
Tax View Total
Statement Of Tax Detail
Statement Of Tax Summary

Consolidated Account

Trial Balance
Balance sheet
Income Statement
Integrated With MyDistribution Reports
Account Receivable Report
Customers Detail Aging Analysis(With SO)
Customers Aging Analysis(With SO)
Customers Detail Aging Analysis-PD(With SO)
Customers Aging Analysis -PD(With SO)
Account Payable Report
Suppliers Detail Aging Analysis(With PO)
Suppliers Aging Analysis(With PO)

Chart Analysis Module

Sales Analysis Chart
Purchases Analysis Chart
Monthly Bank Balance Analysis Chart
Monthly Expenses Analysis Chart
Monthly Budget Analysis Chart
Branch Sales Analysis Chart
Branch Purchases Analysis Char